The 10 Best Airlines in 2020
Well, I should start by saying that I had never been overly picky when it came to booking air travel. It wasn't until I had flown hundreds of times (150+ flights in just one year alone), that I realized that not all airlines are created equally.
Now, I've become a more savvy traveler, that isn't blindly driven by advertised price. After all, that cheaper flight might actually cost you more in the end if it's an airline that charges for things like baggage (some even charge for carryon!) and seat selection.
Choosing the wrong airline might also cost you your happiness–or even sanity.
There are so many variables you won't see when choosing an airline, such as in-flight service experience and customer service, which can make a huge difference. So I've put together my list of the best airlines to help you save money, so you can travel more and travel better.
Here are the best airlines from domestic to international providers:
1. Southwest
Best [Overall] Airline for: Domestic travel within the US
Southwest isn't the cheapest, but it is the best value and the best overall airline for domestic US travel. Unlike other airlines (ahem, American) which charges for every little thing from your seat to your carryon bag, Southwest includes two free checked bags, as well as free cancellation (via credits for future flights), and while it's boarding process is a bit odd, it does mean you can get seats with your travel partner(s) free.
Pros:
Free cancellation (bank the credits)
Two free checked bags
Sit with your friends
Cons:
The boarding process is weird
Usually not the cheapest option
No international flights
Ready to find your flight? Southwest doesn't list on most travel booking sites, so go to Southwest directly.
2. JetBlue
Best Airline for: In-flight entertainment on domestic flights
JetBlue is the best airline for in-flight entertainment on domestic flights. We've all been there: boarding a plane with fingers crossed, hoping there are individual TVs in the seatbacks. With JetBlue, you don't have to worry because personal TVs are guaranteed on all flights. But to take in-flight entertainment to another level, JetBlue also includes free in-flight wifi.
Pros:
Personal TVs guaranteed
Free wifi
Free snacks and drinks
Cons:
Doesn't fly out of smaller airports
Slightly more expensive
Checked bags not standard
Bonus: In case you're a business class-type traveler, JetBlue is one of the few airlines that offer lie-flat seats for business class passengers on certain routes (e.g., NYC to LA).
3. Alaska Airlines
Best Airline for: Affordable West Coast flights
Alaska Air used to be better known for its affordable flights, and while it still is, it also is now known for its nice plans–thanks to its acquisition of Virgin America. Now, Alaska Air is one of the best airlines for traveling around the West Coast. It flies through the most West Coast airport out of any airline, giving you tons of flight routes and it's well-regarded for its in-flight service that includes free drinks and snacks (even on short-haul flights).
Pros:
Tons of West Coast flights
Nice planes
Free drinks and snacks
Cons:
Not as popular on the East Coast
Wifi is not always available
Uncomfortable seats
Tip: Wear the jersey of the company's "chief football officer" (currently Russell Wilson) to get early boarding.
4. Allegiant Air
Best Airline for: Traveling with a small dog (or small pets)
Allegiant Air makes the process of flying with a small pet easy. While most airlines require passengers to call to book their pet's travel after booking their flight, Allegiant saves its customers time by letting them book their pet's travel during the normal ticket booking process. It's also an affordable airline that services small US airports, as well as Puerto Rico.
Pros:
Easily fly with your small pet
Fly within the US and Puerto Rico
$100 each way
Cons:
First class is not available
Checked bag not included
Limited flight routes
Ready to find your flight? Book your flight directly through Allegiant.
5. Westjet
Best Airline for: Traveling with a big dog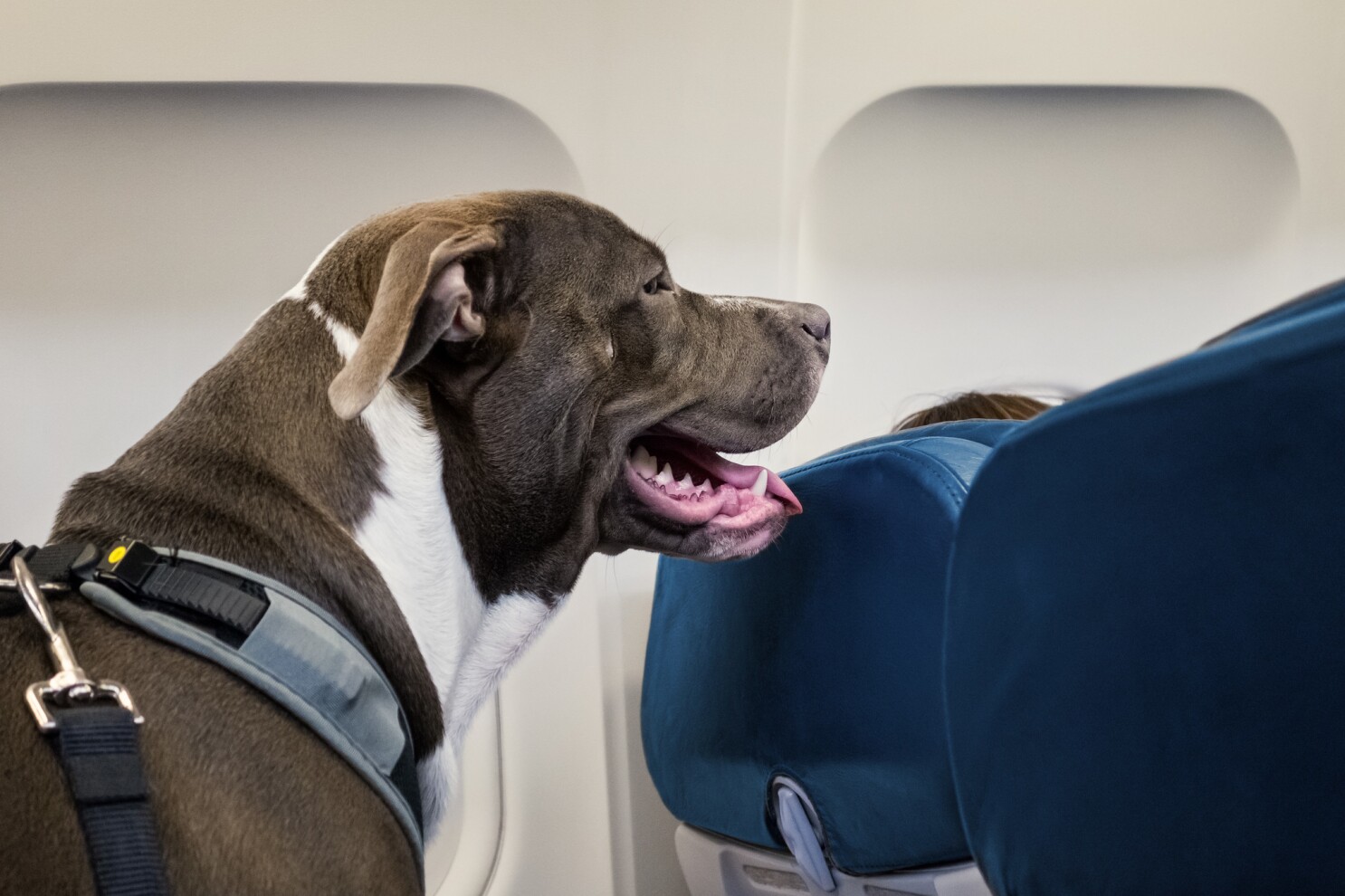 If you have a large breed dog you know how hard it can be to find an airline that lets them join. It seems like most airlines are only small-dog friendly, there are a few out there that cater to traveling with large or multiple animals. WestJet allows big dogs in-cabin, but only if they're a service or emotional support animal (which is pretty easy to come by).
Pros:
Large dogs allowed in-cabin
Affordable rates (~$50-$60)
Generally comfortable seats
Cons:
Personal TVs not standard
Checked bag not included
Limited flight routes
6. TAP Air
Best Airline for: Breaking up a flight to Europe with a multi-day stopover in Portugal
Looking for the best airline for an upcoming transatlantic flight? Don't like sitting for long periods of time? Always keen for an added adventure? Book with TAP Air to break up your long flight with a multi-night stopover in the incredible Lisbon or Porto for free.
How does this work?
Well, say you're traveling from Boston or NYC, a direct flight to Rome would take around 8 to 9 hours. With a stopover (1-5 nights) in Portugal, you'd fly from Boston to Lisbon (or Porto) in about 6 hours, and then have a 3-hour flight from Lisbon to Rome. In the interim, you get to explore a new country and get adjusted to the time difference.
Pros:
Free multi-day stopovers
Check out Portugal
Breakup a long flight
Cons:
Personal TVs are not guaranteed
Must book directly to get the multi-day stopover
Book directly through FlyTAP to book a flight with a stopover in Lisbon or Porto, Portugal.
7. Swiss Air
Best Airline for: Traveling with sporting equipment (i.e., skis or bike)
Swiss Air is a great airline for a number of reasons, from its affordable transatlantic flights to it's in-flight services. But what really sets it apart is that if offers checked sporting equipment for free. So if you're off for a ski or snowboard holiday, or perhaps a mountain biking holiday, Swiss won't charge extra. Granted, it is a pain to lug all of your equipment abroad, it does save you time and money by avoiding the need to rent gear.
Pros:
Sporting gear flies free
Affordable flights to Europe
Good in-flight service (think swiss chocolate galore – literally)
Cons:
Economy class seats aren't comfortable
Connections in Geneva add travel time to those traveling to European destinations farther west (i.e., the UK, Spain, or Portugal).
The best way to find cheap flights with Swiss Air is by using Skyscanner.
8. Norwegian
Best Airline for: Ultra cheap transatlantic flights
Norwegian is one of the best airlines given its affordable flights to the UK and Europe. It's hands-down one of the cheapest airlines you can find for transatlantic flights. It also offers affordable business-class upgrades. Of course, you will need to expect to pay for everything from checked baggage to meals and personal TVs are not necessarily guaranteed on all flights. But if you're on a budget, Norwegian has you covered.
Pros:
Super affordable international flights
Can be cheap to upgrade to business class
Great for flights to London
Cons:
Expect up-charges for everything
Personal TVs are not guaranteed
First-class doesn't have lie-flat seats (you get what you pay for)
9. KLM Royal Dutch Airlines
Best Airline for: All-inclusive international flights
Sure KLM flights look modern but it comes with everything international travelers used to expect back in the day (that's right, back in the day), such as a free checked bag and free meals. Being a Dutch airline, its main hub is out of Amsterdam, making it a good stopover point for just about any European destination–without increasing overall travel time.
Pros:
High-quality in-flight service standard for all passenger classes
Competitively-priced
Good layover location for most European destinations
Cons:
Almost always a bus transfer for CityHopper flights
The famous "that's not possible"
Not great for traveling to the UK or Ireland (given stopover in Amsterdam)
10. Aer Lingus
Best Airline for: Affordable Business Class With Lie-Flat Seats
Ok, Aer Lingus is also good for affordable economy flights, but it stands out for its affordable lie-flat Business Class seating. It's flights are generally priced competitively, tickets include a free checked bag, and with its hub in Ireland, its a good airline for flying to Europe for those that don't want to sit as long for a given period of time.
Another unique things about Aer Lingus is that if you're flying from Europe to Boston, you'll actually go through US border patrol in Dublin, so by the time you land in Boston, you don't then have to stand around in long border patrol lines. Pretty sweet.
Pros:
Competitive prices for quality flights
Checked bag included
Great for traveling via Boston
Good in-flight services
Cons:
Economy seats aren't overly comfortable
Awful customer service if they lose your luggage (take it from me)
7 Travel Booking Tips
Before you book your flight on one of the best airlines, be sure to also get the best deal and the best flight experience by following the booking tips below.
Check Skyscanner for cheap flights
Search in incognito browsers
Don't wait on a good deal (prices will go up)
Book mid-week
Check who your flight is operated by (hint: it may be a different airline)
Avoid flights that land super late (if they get delayed, you can be screwed)
Avoid flights that require you to change airports
Get more tips on how to find and book affordable flights.
What's Next?
Search for that flight I highly recommend Skyscanner. It's been a long-standing favorite of mine and despite trying a number of other flight booking platforms over the years, Skyscanner always wins out for finding the best value flights.
Book Your Flight Now
Happy Travels!