17 Summer Must-Haves For Instagram-Worthy Parties
Summer is a time to let loose, live large, and enjoy that magical time of year we spent all year looking forward to. From the summer must-have basics to those looking to go all out, here's a list of all the things you could need (and want) for your summer of fun, while banking months worth of Instagram content.

Here are the 17 summer essentials for an Instagram-worthy outdoor affair:
1. Get Yourself a Bar on Wheels (aka a Cooler On Wheels)
Take the bar with you with an awesome, very portable cooler on wheels. Keep your booze (or food) chilled while you chill and have a good time.
You can get a Coleman 42-can soft cooler on wheels for just $33.99 from Amazon, and trust, me it's a good investment that will save you save (got to love BYOB).
Get your cooler on wheels now.
2. Doll Up Your Drinks With Proper Drinkware
You wouldn't dress yourself in an ugly bikini, so why would you dress your cocktails in an ugly plastic cup?
Give your party a beach bar flair by using proper drink-ware, such as a set of 4 shatter-proof, plastic hurricane glasses for $22.63 (Prime). Order yours now.
Tip: Remember to always garnish your drinks to ensure they look like an expensive drink from a bar.
3. Impress Your Squad With a Mixologist Bar Kit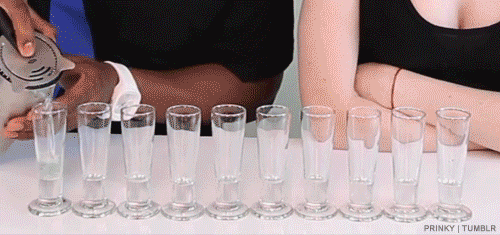 You don't have to be a mixologist to mix up some show-stopping cocktails. But you will want to get some of the bar tools the pros use if you want to look like a pro.
Buy your mixology bar kit now …and then go learn some skills on YouTube.
4. Laugh Your A** Off Playing Bung Hole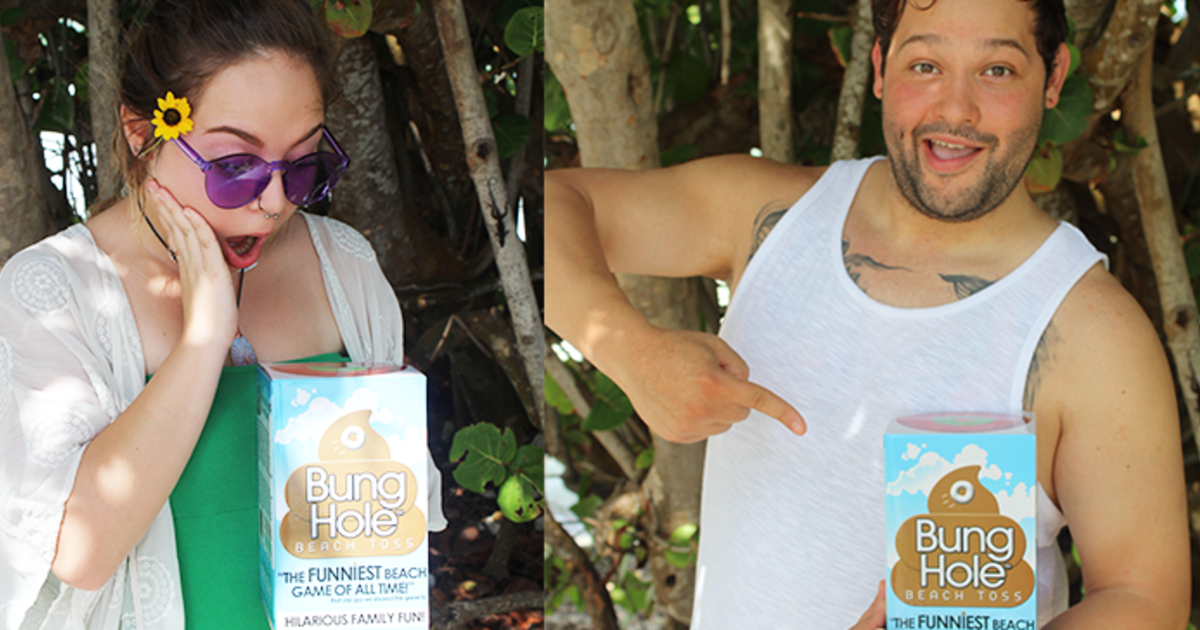 Lawn games are great, but they can also be a pain in the a** to lug around. Most are big, heavy, and take up a bunch of space, but that's not the case with Bung Hole.
That's right: Bung Hole.
It's like corn hole, but it's super portable (it's so small you can carry it with you everywhere).
Get your own Bung Hole for hours of fun with your friends now (no pun intended)

P.S. Definitely pun intended.
5. Skip the Hangover With Anti-Hangover Supplements
Okay okay, I know it sounds too good to be true, but YES – YOU CAN LIVE HANGOVER-FREE!! I didn't believe it either, but I've tried it and tested it (on a number of occasions) and I'm telling you it works.
It's seriously one of the best investments you could make.
Order yours now to cancel hangovers for good ($19.99)
6. Get a Waterproof Speaker
You probably already have a bluetooth speaker, but is it waterproof?
If not, how will you take it on the boat? On the pool float? In the shower (yes, because parties can end up in the shower).
Invest in the only bluetooth speak you'll ever need (Normally $99, on sale now for $69)
7. Forget Low Battery Fears With a Solar Charger
Keep the party outside and all devices charged with a portable, solar-powered charger. Your friends will thank you. No seriously, they will THANK YOU.
You'll also thank yourself in the future because you really can't have too many of these (one in the bag, one in the car, you get the gist…) and if you have a portable power bank already, you'll know how they always seem dead when you need them (they too need to be charged after all).
But leave this bad pup in the sun, and get all the juice you and your friends need.
Get your solar-powered power bank ($28)
8. Get Yourself a Tan and Strut Your Stuff
Beach bodies look better with a tan. I didn't make this up and it isn't news. But baking your skin in the sun is bad for you, and if you're like me, a good tan doesn't come easy.
Opt instead for a good sunless tanner. Bondi Sands is a summer must-have. It goes on nicely, is super buildable, doesn't streak, and the color comes out really natural (even on super fair skin).
Buy Bondi Sands self-tanner today ($29)
Tip: Wear gloves when applying the tanner to avoid having to scrub your hands and hope you don't get those dreaded orange palms.
9. …But Also Keep That Skin Looking Tight With Sunscreen
Protect your skin.
Enough said.
Buy this absolute summer must-have Sun Bum SPF 30 Lotion (it's the best and its $15).
10. Taste Like Paradise With This SPF Lip Balm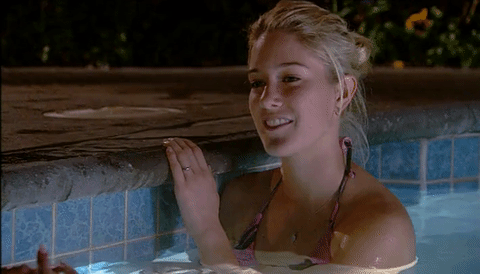 Keep your lips protected too. After all, people spend good money on those babies these days and lips can get sun damage too. Use a lip balm with SPF to keep lip wrinkles and skin cancer far, far away,
Get great tasting lips (and drinks) with Sum Bum Lip Balm ($9 for a 4-pack).
11. Put a Lid On It
Classy and cool people wear hats. Also, smart people wear hats. They not only make you look beach chic, but smart as you're keeping the sun off your head, and more importantly, face (you'll be happy you did when you're old and don't have a sharpei face).
Granted, a good hat can be hard to find. However, the lifeguard-style straw hats look good on everyone and they just scream "I'm a good time," so I recommend grabbing one of those.
Get a cool surf-style straw hat ($18.99)
12. Get Yourself a Pool Float
The pink flamingo is a has been …But pool floats will never go out of style.
So stock up on fun, Instagram-worthy pool floats.
Here are are few of this summer's must-have floats:
13. Lounge In-Style With Good Beach Chairs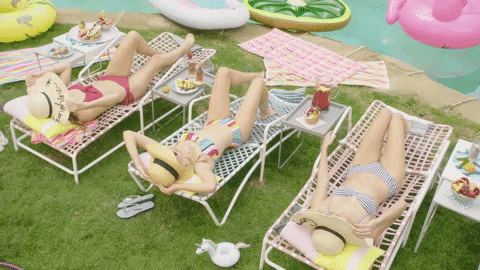 If you're hosting summer parties at your place and you have an outdoor space, lounge chairs are a summer must-have. It will make all the difference and just think of all the hours you'll enjoy lounging in the sun reading a good book, listening to some good music, or gossiping with friends.
Admittedly, I don't know where to find these exact chairs, but here are some pretty swag chairs from Target ($151)
Tip: Add some cute outdoor throw pillows to give it that 5* hotel vibe.
Go from six to midnight with some battery-powered fairy lights. Whether you're meeting the crew at the beach, hosting a pool party, or even out on a boat, string lights will light it up and create such a cute (and sexy) vibe.
Order your battery-powered fairly lights ($11.99).
15. Go Beach Chic With a Beach Rug
Now this is adulting on overdrive, but one great way to make an outdoor party feel high-end is by adding an outdoor rug. Toss it under your table, chairs, whatever, to instantly re-create the atmosphere and boost the luxury vibes.
…or don't go beach chic, and go beach burrito instead with this huge tortilla blanket.
16. Give the People What They Want (Food)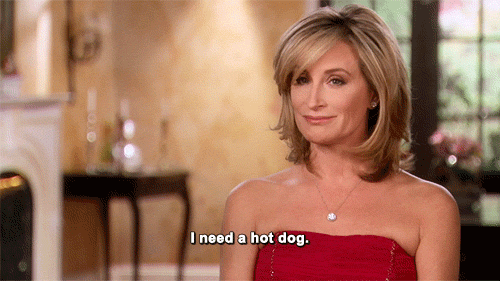 One of the best parts of summer is grilling. Even if you're not into grilling, tons of people are, so your grill will always be summer must-have and a party hit.
…but grills are heavy, right? Well, yeah but you can get a portable grill that you can bring to the beach, to your friend's house, on a boat, you get it. And you'll also get to eat grilled food, whether you stick to the classics like burgers and dogs, or go fancy with some freshly caught seafood or marinated steak. You can do whatever you want, it's your grill and it's your life.
Order your Portable Cuisinart Charcoal Grill (normally $30, on sale now for $25).
17. Make it Rain With a Foam (or Bubble) Machine
Apparently there's a reason why foam machines aren't too common at private parties and that's because they'll set you back over a grand.
But, even if there's no foam, you can still have bubbles for a fun and whimsical vibe and Instagram-worthy photo opts.
Get a bubble machine (normally $40, currently on sale for $33)
What's Next?
Plan your get-together. See your friends. Go outside. Take some pics. Book your next flight – but he sure to book with one of the best airlines.
Happy Summer & Happy Travels!